Your Notary Stamp, Seal and Seal Embosser Information Hub
A notary stamp is arguably your most important tool because it contains your seal. The seal helps prevent fraud by proving that a document was properly notarized by a commissioned notary public.
Seal requirements vary by state, but most contain your name, the state that commissioned you and your commission's expiration date.
Stamp vs. Embosser — What's the Difference?
Sometimes, the terms notary stamp and notary seal are used as a catch-all for both rubber stamps and embossing tools. But it's important to know the differences between them to make sure you follow your state's regulations.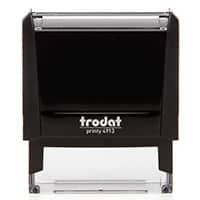 The Basics
These stamps use ink and a rubber version of a notary's seal to create a clear and easily visible mark. The seals are usually rectangular, but a few states require them to be round. Our stamps are self-inking and come in a variety of colors. Some states have different requirements for their stamps, so make sure you read your notary application carefully to stay compliant.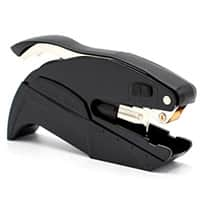 What Is an Embossed Seal?
An embossed seal (or notary seal embosser) is the older, more traditional notarization tool. It's a metal clamp that notaries use to press a round, raised indentation of their state-compliant seal onto documents. Because this ink-free method is hard to see on photocopied documents, it's often used with an embossment seal inker or along with the inked rubber notary stamp.
How to Get Your Seal
Contrary to what you may expect, states do not provide notary seals. You must order your required notary supplies (stamp, embosser, notary journal) from a provider like Notaries.com. Because seals show the commission expiration date in most states, notaries cannot order a stamp or embosser until they've completed their commission application.
There is no federal standard for notary seals, so specific requirements fall on state governments. With a bit of research, you can find your state's requirements either within the notary commission application or the state government website.
If you'd rather not spend time looking through government documents, you can purchase one of our comprehensive notary packages. Packages include everything you need to become a notary, like detailed application instructions, a notary bond, a record-keeping journal and a notary stamp that meets your state's requirements. Select your state at the top of this page to get started.
When Notaries Need Their Seal
Every state has its own requirements for notarization. Notarization might be required for some documents in one state but not in another. However, these are two common acts that require notaries.
Jurats
A jurat (also known as an affidavit, affirmation or verification on oath) is a way for a signer to affirm that the contents of a document are true. Usually, the signer must appear before the notary in person and also repeat the affirmation out loud.
Jurats are commonly performed on legal documents like affidavits and depositions.
Acknowledgments
An acknowledgment confirms three things: the identity of the person signing the document, that the document is being signed voluntarily and that the signer understands the contents of the document. Signers must appear before the notary — either in person or on camera for remote online notarization — and verbally acknowledge their identity and their understanding of the document.
Acknowledgements are commonly used for documents related to high-value assets like mortgages and deeds.
How to Affix a Notarial Seal
Applying your notary seal to a document is a rather simple (and satisfying) task. One important thing to remember is to always apply the stamp or embossed seal on a flat surface, not on an angle. Using a flat surface and applying enough pressure ensures the entire seal is visible.
Self-inking stamps are a quick and clean way to notarize documents! Our stamps include instructions for cleaning and, after a lot of notarizations, re-inking.
If you ever need to clean your rubber stamp, we recommend wiping the stamp with a damp rag or paper towel. Do not use any cleaning detergents.
FAQs
How much do notary stamps cost?
Because a notary's seal is so important, we recommend getting the highest quality stamp or embosser you can. Expect a quality notary stamp to cost between $25 and $35. Embossed seals are available in smaller, hand-held and larger desktop sizes. These tend to run between $30 and $40.
Can I customize my notary stamp?
It depends. For the stamp itself, there are no regulations regarding size or color as long as the seal is state-compliant. Our stamps and seals are available in many different colors. For the seal, most states only allow either black or blue ink. Check your state's guidelines for more information.
How do I dispose of my notary stamp?
If your notary commission has expired and you don't want to renew your commission, you must dispose of your stamp or seal properly. Tossing them in the trash could lead to someone getting them and committing fraud with your seal.
We have a whole article dedicated to proper disposal, but here are the basics:
Remove the rubber bottom from your stamp and cut it up into pieces before disposal
Remove the metal embossing plate from your seal and use a hammer or another tool to render the embossed information illegible
Why choose a self-inking stamp?
Many notaries choose self-inking stamps over traditional stamps because they provide a convenient, mess-free experience.
Traditional stamps use a separate ink pad and require manual inking for every use. Self-inking stamps combine the stamp and ink pad into one unit. They contain a refillable inkpad that reinks your seal every time you press and release the stamp.
Do I need to keep my seal locked up?
To prevent fraud, some states require notaries to keep their seals and embossers in a safe, secure and locked location. You can use a personal safe or lockbox to keep your materials safe at home. But while on the road, consider traveling with a portable lock box. That way you can protect your seal from anywhere.